Sierra Leone Civil War Memorial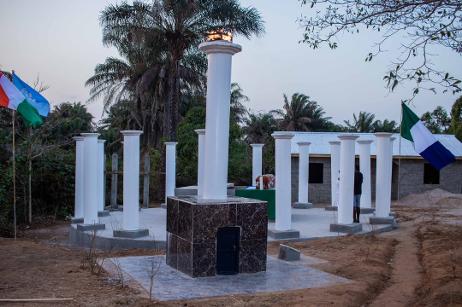 The Sierra Leone Civil War Memorial is located in Robis, Lungi - approximately three miles from the Freetown International Airport (FNA) on the way to Targrin Ferry Terminal. Entrance to the location is on Juldeh Jalloh road at the orphanage. Ask for the Sengbe Pieh Academy.
Transportation from Freetown to Lungi:
1. Drive: You may drive from Freetown to the Lungi and Robis, but this is nearly a three hour trip through Port Loko.
2. Ferry: The ferry leaves from Kissy Ferry Terminal at Ferry Junction in the East of Freetown at: 8:00AM, 11:00AM, 2:00PM, 5:30PM and 8:00PM. You may take a return ferry from Lungi back to Freetown at the times listed above.
You can bring your car on the ferry for a cost. Please note that the ferry is not the most reliable form of transportation and may not leave at the expected times for a variety of reasons. Please leave enough time for likely traffic on Kissy Road.
3. Speed Boat: Speed boats leave from the Kissy ferry terminal regularly. Be aware that this is a quick option but you may get wet! You should also be prepared to be lifted from the boat and carried to shore where you can walk to the ferry terminal to find a ride to Robis.
4. Sea Coach Express: This water taxi leaves from the terminal by Aberdeen bridge and drops you at their own terminal near the airport. It is reliable and a quick way to get across the river. The price is $40 one-way and can be purchased at: https://seacoachexpress.com/sierra-leone/
5. Seabird Water Taxi:This water taxi leaves from the Murray Town roundabout. It is a quick and reliable way to travel. It drops you at a terminal near the airport. It is also a $40 cost for a 1-way ticket. Tickets can be purchased at: http://www.seabirdsl.com
Driving from the ferry: If you choose to drive from the ferry terminal just follow the airport road until you reach the road to Robis located on your right. Follow this road for a quarter mile where you will turn left at the Robis Mosque.
The Sierra Leone Civil War Memorial and park are only opened on Fridays between 10am - 5pm or by special booking. The memorial site is new and we are still putting measures in place to extend opening hours for visitors. We can however accommodate those who make visiting requests in advance.
Opening Hours:
Fridays: 10am - 5pm
Internationals
$15/Le150,000
Sierra Leonean/ECOWAS
$10/Le100,000
Guided Tours/Presentation
Staff Guides:
1-10 people – $100 or Le1,000,000
11-15 people – $125 or Le1,250,000
16-25 people – $150 or Le1, 500,000