Binta Mansaray - National Reconciliation Award Recipient (2022)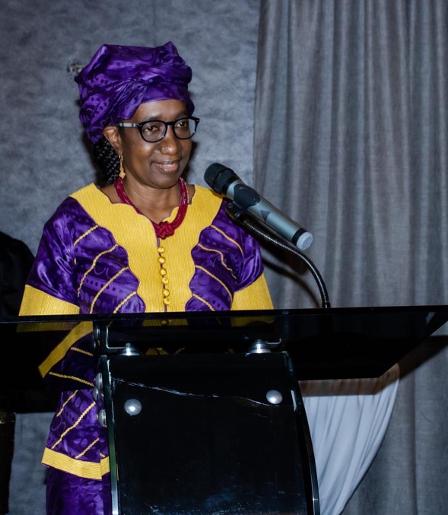 Binta Mansaray was appointed Registrar of the Residual Special Court for Sierra Leone by the Secretary-General of the United Nations in September 2014. She had served as Acting Registrar of the Residual Special Court since its inception in January 2014. She previously served as Registrar of the Special Court for Sierra Leone, a post she held from February 2010 to December 2013, when the Special Court closed upon the successful completion of its mandate. From July 2007 to February 2010, she was Deputy Registrar, and while continuing to hold that post, she was appointed Acting Registrar in June 2009.
Ms. Mansaray first joined the Special Court in 2003 as Outreach Coordinator, during which time she designed the Court's widely-acclaimed Grassroots Programme to keep the people of Sierra Leone, and later Liberia, informed about the Court and its trials. Prior to joining the Court, from 1996 to 2002, Ms.
Mansaray was a human rights advocate for victims, women and adolescent ex-combatants of the Sierra Leone armed conflict, working with a number of organizations: She held the post of Protection Partner/Country Representative for the Women's Commission for Refugee Women and Children in Sierra Leone; she worked with the Campaign for Good Governance, several civil society organizations, and served as a consultant with the United Nations Mission in Sierra Leone (UNAMSIL).
As Registrar of the Residual Special Court, she initiated and oversaw the refurbishment, development and
expansion of the Sierra Leone Peace Museum, which seeks to educate visitors, through artifacts and records, about Sierra Leone's war and its aftermath, and about transitional justice. The Museum houses the archives of the TRC and the public records of the Special Court for the benefit of Sierra Leoneans, visiting researchers and future generations. The Museum also has a Memorial Garden designed to promote contemplation of the tragedy of the country's armed conflict, and in remembrance of those who lost their lives.
Ms. Mansaray is a graduate of the University of Sierra Leone. She received a Master's degree in French from Fordham University in New York and a Master's degree in Public Administration and Policy from American University in Washington, DC. She obtained a certificate after successfully completing training on Women and Armed Conflict which was organized by ISIS-WICCE in Kampala in 1999.
In April 2018, Ms. Mansaray was inducted by the American University into Pi Alpha Alpha, a Global Honour Society which recognizes outstanding scholarship in public administration and public affairs.

Among the awards and recognition she has received, in 2014 she was made Commander of the Order of the Rokel by the then-President of Sierra Leone Ernest Bai Koroma for her distinguished service to the Special Court. The Order of the Rokel is Sierra Leone's highest civilian award.
Binta Mansaray received the National Reconciliation Award 2022 for her dedicated service to transitional justice and human rights in Sierra Leone.